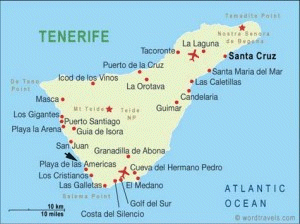 Introduction: Situated off the coast of Africa, Tenerife is one of the Canary Islands and, along with Cran Canaria, Fuerteventura and Lanzarote are very popular holiday destinations for British holidaymakers. Like all the Canary Islands, Tenerife was formed by volcanic activity. The island itself is dominated by Mount Teide (Spain's highest peak) and the world fourth largest volcano. The island is part of Spanish territory with English and German widely spoken.
The volcano affects the climate with the southern half of the island (resorts - Playa de las Americas, Los Christianos) being very hot, dry and sunny whereas the top half of the island is cooler, more tropical with Banana plantations surrounding the resort of Puerto de la Cruz.
Is it Gay?
Whereas Gran Canaria has long been an established gay destination, Tenerife has far fewer gay bars in either of the main resort areas although it can be said the gay scene is thriving in the south in Playa De Las Americas and in the north in Puerto De La Cruz. (We recently updated our Tenerife gay bar / business listings - see below). However this is made up by far more impressive scenery, picturesque towns, etc. It is also a more restful holiday destination, so if you've had your fill of London nightlife for a while and want a cheap sunny break then Tenerife may be for you. See also Gay Bars, Hotel Accommodation, Gay Beaching / Cruising Areas, Gay Saunas
Getting there /getting around: Being such a popular holiday destination there are many cheap flights/packages to Tenerife. Flight time from the UK is around 4 hours and the clocks are the same as UK time so no jet lag problems. Most holiday companies offer packages to Tenerife and the other Canary Islands. Although we hired a car, the resorts aren't that big so we walked most of the time. If you thinking of going out drinking and who isn't, taxis are very cheap (around £2 from Los Christianos to Las Americas). There are buses from the resorts to the airport and around the island.
Money: Currently around 1.20 Euros to a &pound1. There are cash machines on the island (main resorts/some petrol stations/shopping centres) which take Visa, Mastercard etc (allowing you to withdraw money from your current account). The pound is strong so prices are very good value
The Main Resorts
Accommodation: There are loads of hotels on Tenerife and even more being built. Most visitors will have booked a complete package flights and accommodation. Try to ensure the transfers to the resorts are included as although there are two airports, its still a good taxi ride to the resorts. The hotels vary in quality. Most are purpose built montrosities built to house the masses. However there are some smarter glitzy American type hotels built at the posh end of Playa de las Americas, which statuettes, pyramids fancy fountains. Very Joan Collins/ very Las Vegas (although on a much smaller scale).
Los Christianos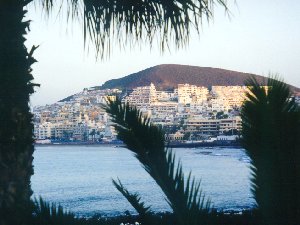 This is where we stayed. It was originally a fishing village that has been developed into a fairly large tourist resort. There is still a half decent town centre with lots of shops selling cheap electrical goods, aftershave and perfums as well as normal tourist fodder. The beaches are man made although swept clean every night. The bay is quite attractive with a harbour in the middle and restaurants/bars along the front.
Check hotel availability in Los Christianos with

Playa de las Americas has grown so much that in now merges into Los Christianos. A lot of flashy American Vegas type hotels have been built recently which are quite attractive. Las Americas continues along the coast the the standard of hotel decreasing the future west you travel. Las Americas basically has no spanish character whatsoever. Check hotel availability with

Avenida Rafael Puig Lluvina, 3, 38660 Playa de las Americas, Tenerife, Spain

Tel:

This themed adults-only resort is across the road from the beach in the popular destination of Playa de las Americas, and features its own disco-bar. It has a nudist swimming pool.

Take it easy at the gay-friendly Playaflor Chillout Resort. These stylish bungalows each boast a mixture of Arabian and African colonial and tribal decor. They offer views over la Gomera. Enjoy a morning coffee out on the private balcony. The resort offers an a la carte breakfast with milkshakes and hot drinks.

Prepare yourself a meal in your bungalow's kitchen, before spending an afternoon lounging around the Playaflor Chillout's outdoor pool. You can also treat yourself to a soothing massage, or enjoy a cycle along the beachfront, with a bicycle rented at reception. The Playaflor Chillouts tour desk and ticket service will help you plan your time in Tenerife. The restaurant serves exotic cuisine. The Chill Out bar has a terrace where guests can admire the surroundings.

"Gay Friendly"

Check hotel availability and special offers with
Puerto De la Cruz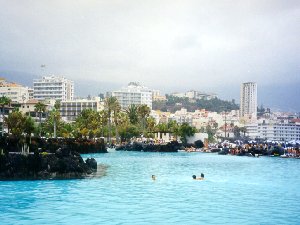 Puerto de la Cruz is a quieter and slightly more sophisticated resort. Set among Banana plantations this is where you'll find the majority of gay life. The climate is not as good at the south though. When we visited it was cooler and more humid. Some people may prefer this. Also see beaches.
Check hotel availability with



Beaches
If you're after golden sand prepare to be disappointed. Being a volcanic island Tenerife is one big rock there are no natural sandy beaches :-(. However there are greyish man made beaches as Los Christianos and at Puerto de la Cruz there is a huge man made lagoon full of screaming kids and couples. Be warned. You best bet would be to stay around the hotel pool if you can get your towel down before the Germans!
Eating Out
Talking of meat, eating out on Tenerife is easy with a good variety of restaurants offering of steak, fish and pasta dishes. All very reasonably priced. Plus the obligatory Burger King, KFC etc. We ate out most nights. Food is on the whole good quality and very reasonable. Most meals came to around £ 5/ 6 per person which included several bottles of wine/sangria. The waiters are quite sweet so don't forget to tip. If you want to cook yourself there are plenty of supermarkets near the hotels.
Shopping:
Shopping in the resorts is a pleasure. Because the island is virtually tax free (only 4%) it is worth checking out electrical goods, booze and cigarettes.

Booze. Being able to buy a litre of Bombay Sapphire/Gordons at the local supermarket for around £6 would cheer up most queens. Other spirits are equally cheap so we spent many evening after the meal getting sloshed on cocktails. If you are a penny pinching queen not too worried about brand names you can pick up rip off Gordons lookalike gin for around £2.50. The same applies to rum, whisky, malibu etc. After the first four glasses you don't really care anyway. Just pack the Beroccas to sort out the hangover in the morning

Electrical Goods. Head for one of the major shopping centres. Santiago III in Las Americas is particularly good. Most of the reps can arrange shopping trips to SANTA CRUZ the capital. The majority of electical goods conform to EEC standards so guarantees aren't a problem. Be prepared to barter, haggle, walk away to get the price you want. The shops will always make you a better offer than lose a sale. It is recommended that you bring an up to date price catalogue from somewhere like Jessops or Jacobs to compare prices. You should be able to save £50 to £150 on cameras, and four to five hundred pounds on camcorders. Makes Dixons look horrifically overpriced. The goods are also new or recent models. I purchased a nice Olympus digital camera saving a small fortune on the UK retail price.



Gay Bars.
Basically I wouldn't consider Tenerife to be a good gay holiday destination. The majority of gay life is based in Puerto de la Cruz, with a couple of bars in the towns of Las Americas, La laguna and Santa Cruz. Here is a summary of those bars/discos which call themselves gay friendly

PUERTO DE LA CRUZ
The following bars are situated in the Edificio Drago, Avenida Generalisimo 24, with most having darkrooms or prono videos on show, and some regular drag shows.
Anderson Club
O'Neill's Cafe Bar (New) - is building a reputation as an early evening bar. (Our opening hours are from 10am till 10pm (Later in the summer). We are primarily a café serving breakfasts and lunches and various other snacks. We can seat 40 people with most of our tables on a large) Addres: Edificio La Guajara No.3 Avenida Generalisimo Puerto de la Cruz Tenerife
D'Espanto
Jims
Men's Club
Vampi's Disco

has a drag show at around 2 a.m. This is a gay club although frequented by qute a few open minded straight people. Should be kicking around 3am in the morning.

also

Tabasco
Avenida Generalisimo 15
Cafe De Paris
Avenida de Colon / Avenida Venezuela
PLAYA DE LAS AMERICAS
PLAYAFLOR CHILL-OUT BAR VANITY CLUB (in Front of Playaflor) Gay-lesbians-straight. Shows.
DISCO GAY-SHA (same avenue, 2 min. by foot) Gay-lesbians.
GEMINIS PUB(Same avenue, 2 min. by foot) Gay-lesbians. Shows.
DISCO PUB CHAPLIN (Same avenue, 2 min. by foot) Gay-lesbians. Shows.
DISCO PUNTO ZERO (Same avenue, 2 min. by foot) Gay-lesbians. Shows.
SELLAR PUB (Same avenue, 2 min. by foot) English staff. Gay and lesbian.
UKELELE PUB (In Los Cristianos, 5 min by taxi). Very gay friendly.
AGUA DE COCO PUB (In Los Cristianos, 5 min by taxi). Very gay friendly.
LA FORCHETTA RESTAURANT (In Los Cristianos, 5 min by taxi). Very gay friendly.
SUGAR & SPICES RESTAURANT (In Los Cristianos, 5 min by taxi). Very gay friendly.
TROPICAL DELPHIN Ship excursion, sunset with dj's in Atlantic Ocean…The best water party.
E2 BEAUTY CENTER (5 min. by foot) Waxing and gay beauty program.
TORVISCAS TRAVEL (2 min. by taxi) Money exchange. Travel services.
BOUTIQUE METAL (In Los Cristianos, 5 min by taxi). Designer names and trends QUAD EXCURSION Amazing, special escapades, special gay groups
COSAS Presents and designer gifts (In Los Cristianos)
Suggestion: Try the Metropolis Club. Its located on the beach front directly behind La Conquestidor Hotel. Busy Friday, Saturday and Sunday midnight onwards. Mixed club but quite a few queens. Good disco, great cocktails

La Laguna


Consulado
Calle Antonio, Torre Edward
Nashville Pub
Calle Dr Antonio Glez 11

SANTA CRUZ DE TENERIFE


Blue Dreams Bar(Suenos Azuless)
Calle San Miguel
La Laguna Disco

Nude Beaches / Cruising Areas

An added bonus. Nude sunbathing is allowed on some of the more secluded beaches around the island if you feel inclined expose your bits to passers by. Here is a list of some of the acknowledged cruising areas/beaches.
Don't think for a minute I've dragged my arse round all those rocks!

Puerto de la Cruz - Playa de los Rusos / Darsena Pescadora
Leave La Cruz and head north towards San Andres and follow the signs toward Darsena Pescadora. Park by the jetty. Reach by car, bike or bus number 914.

Playa de la Teresitas and Playa de la Gaviotas
An artificial beach, head north form La Cruz toward St Andres and follow the signs. Cruising takes place near the cliffs at the left. Also, when you reach La Teresitas , continue up the hill towards Playa de la Gaviotas where nude sunbathing is acceptable. Bus 914 also takes you here.

Playa De Las Americas Punta Roja at Playa de la Tejifa
Located close to Reina Sofia (southern airport), on the road between El Abrigos and El Medano, Punta Roja is a nudist beach at the headland between these two points. Bus 111 form Las Americas takes you to this beach.

Los Cristianos
As well as the nude beaches there is a busy cruising area of the east side of Los Cristianos. Walk or get a taxi down to the Costimar hotel (15 floor towerblock) What past the hotel and down towards the beach. you should see a steady stream of cars and individuals arriving early evening. Watch out for the rocks though.

La Caleta
Take a bus or taxi to La Caleta. Follow the coast (starting at a path next to the gravel football pitch) away from Las Americas, on a steep path up, over and down the headland and then, at sea level, around the next headland to two sandy bays - total distance about a mile but worth the effort aparently.

The beach in front of Bora Bora in Las Americas is popular for cruising in the evening.
Gay Saunas

There are a few gay saunas on the island

Puerto Sana, Calla Blanco 34, Puerto de la Cruz
Aquario "S UNA", Calle Santiago Beyro 9
Norte Sauna, Calle Poeta Tomas Morales 36, Santa Cruz

Touristy things:

We hired a car for the week. Avis, Hertz and others all cover the island. Book before you leave the UK and don't be afraid to negotiate a good price. Get a map of the island and basic travel guide. Things worth seeing:-
| | | |
| --- | --- | --- |
| Mount Teide volcano. Pleasant drive through lush parkland up to the volcano where the landscape suddenly changes into volcanic ash. 50,000 years BC and Planet of the Apes where filmed here. | Los Gigantos - a new resort of the western tip of the island which is overlooked by sheer cliffs. You can also get boat trips here which promise you'll see dolphins and/or Whales. Nice! | Garachio - a picturesque old town with a supposedly 3000 year old dragon tree!! If you're a sarky London queen I wouldn't bother. |
| | | |
Conclusion:
If you've had enough of this year's lousy British Summer and feel the need to get away then Tenerife offers relaxing cheap holiday destination. Although more suited to families, the locals are very friendly we had no problems. Cheap booze and food is a plus point and if you're after cheap electricals then look no further. I was in a party of five so we made our own entertainment. I would have been bored stiff in the evenings if I'd been a sole tourist. For some reason I was very disappointed with Tenerife. Perhaps it was our own fault that the person who booked our accommodation did it on the cheap and as well asfrom tripping over cockroaches in Los Christianos, I found the whole place rather meh!
The views above are those of the author (visited Tenerife several years ago) and hopefully provide an relatively up-to-date overview from a gay tourist perspective. I wrote this guide because I couldn't find any other information on the Internet to help the gay traveller to Tenerife. I apologise for any glaring omissions or if the information goes out of date. If you're visiting Tenerife this year let me know how you get on.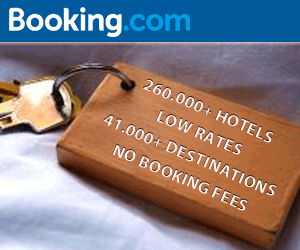 Gay Travel Guides
Spartacus 2013/14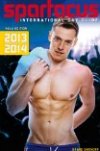 International Gay Guide is the standard companion for gay men who travel.
Chock full of information, Spartacus sheds light on the richness of gay life and helps bring together countless men from around the world. The key to getting the most out of the big gay world out there!
This guide contains over 25,000 useful addresses as well as valuable background info about gay life and travel worldwide. The guide is the authoritative source of information on the rapidly ever-changing gay scene. An absolute must for every gay traveller!
Get Deals on hotel Accommodation in Amsterdam with LateRooms.com
UK Gay Shopping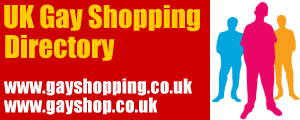 UK Gay Flat Share