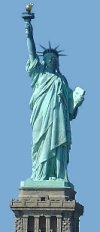 So what has the largest city in The USA got to offer then? One hell of a lot actually. We headed off for a long weekend visit at the end of March.
Although New York is spread over five districts, most tourists head for Manhattan the long strip in the centre. Taking the taxi in from JKF airport (cost around $30 + tips), the first thing the hits you about New York is the sheer size and scale of the place. You can't help but be impressed to see the skyscrapers tower above you.
Getting there.
We checked out both www.ebookers.com and www.lastminute.com for last minute deals and ended up paying around £230 including airport tax. The flight with American Airlines from London, Heathrow to Kennedy Airport takes about 7 hours. Given the New York is around 5 hours behind UK time you actually arrive two hours after leaving, meaning a morning flights arrives around 1pm giving you a whole afternoon to start exploring. Taxis from the airport to Manhattan is around US$30 + tips (£20).
Tourist things.
For those of you able to escape the gay scene for a while is is worth visiting many of the famous tourist attractions. You can visit the top of the The Empire State Building, get the ferry from Battery Park at the southern tip of Manhattan for a round The Status of Liberty and Ellis Island. Although you can climb up inside the Statue of Liberty you should be aware, the queues are horrendous. You should be able to pick up a tourist map from your hotel which high light most landmarks. If we want a view of the city all lit up at night then we recommend the circular restaurant at the top of the Marriot hotel in Time Square.

The Arts:
Broadway in New York is home to many famous shows. Those of you into films might want to check out the latest blockbuster. Once again most of the cinemas are located around Time Square. I would personally the recommend the new Loews multiplex on 42nd street just west of 6th Avenue. New York is also home to some of the best museums in the world including the Guggenheim.
Getting around.
Taxis (big and yellow) are cheap and plentiful. It's worth getting your head around the grid system in New York. Basically Manhattan is divided into avenues running vertically and streets running horizontally and you need to be accurate when directing the taxi driver. Apparently the New York metro system is also easy to use although this time we didn't feel like getting our fingers dirty.
Accommodation
Generally accommodation in New York is expensive and on a par with London. We stayed on 45 St which was very central and within walking distance of Time Square, The Empire State Building and 5th Avenue for shopping. Fortunately the Internet is full of sites offering discount prices on selected hotels around the world
Discount Hotel Accommodation Links:
You might like to look at the following site/s for possible hotel discounts in New York: (We will add more as we find them).
Hotel Travel Network

Bars and Clubs:
As you can imagine New York has more than its fair share. The gay scene is recent years has moved from Greenwich Village to an area called Chelsea around 12th Street/8th Avenue. Although we didn't visit every bar we can certainly recommend the G Bar, Splashbar (50W 17th Street a busy bar/disco), Roxy Club, Twilo Club (530 W. 27th St New york version of Trade but better.),
Shopping
The British pound being so strong works in our favour making prices generally cheaper. Mosts items are prices in the dollar equivalent of UK prices making them up to a third cheaper. The choice of designer shops is overwhelming. Check out the stores just south of Central Park along 5th Avenue. Any label queens are going to be more than happy. Macys (New York's largest store) is situated on 6th Avenue level with the Empire State building. Saks 5th Avenue is also worth a visit. Basically all the big names are here.
Shopping:

Circuit Toys.com are the largest provider of night club novelties including glowsticks, flashing watches, shirts and t-shirts with illuminated logos. Everything you need for the perfect circuit party. Check out their website at www.circuittoys.com for the latest party accessories.
Gay Press:
Its worth picking up some of the free gay press. HX magazine is also available online and gives a good guide to the weekly club happenings.