Introduction
The original home of the Balearic beat, Ibiza is famous for its image - loud, brash, outrageous and undeniably fun. Whilst the straight "club 18-30" crowd will head for San Antonio, gay and lesbian visitors head for the Island's capital - Ibiza Town, a charming old town with plenty of atmosphere and character.
There are popular gay beaches at Es Cavallet and neighbouring Las Salinas, which are just a few kilometres from Ibiza Town, are the perfect place to tan all over, cruise - or do both. Alternatively, hire a car or simply hop on a bus and go exploring. Ibiza has many small and beautiful beaches and coves which are just begging to be discovered.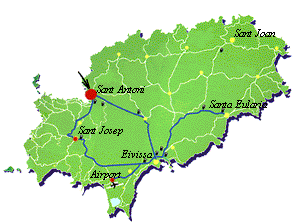 In the evenings the gay crowd will undoubtedly head for Ibiza old Town where you'll find an abundance of gay bars and clubs. There's something to suit every taste - from small, intimate bars to large and outrageous clubs which will keep you going through until the morning light (or as long as you can last!)
Whatever you want from a holiday, Ibiza is one destination which is more than likely to offer all that you could want - and plenty more besides. One of the most popular European summer gay holiday destinations, Ibiza is one of those places that offers something for everyone.


How to get there:
Check out the many discount flights/holiday packages now available on teletext or now on the Net. If you have accommodation sorted and just want flights try British Airways budget airline Easyjet which now flies directly to Ibiza from Luton or one of price comparison sites such as cheapflights.co.uk. For the complete package of flights and accommodation your best bet is to check out some of the offers available from who specialise in gay holiday packages to Ibiza and other popular European gay holiday destinations.
Many regional airports now offer cheap direct flights to Ibiza throughout the summer.
Accommodation:
As a gay traveller don't even be tempted to stay in San Antonio even if it offered. If you can't stay in the old town itself try and stay in either Figueretas or Santa Eulalia. Both are within walking distant or a short taxi ride away. There are a number of gay friendly hotels and apartments in Figueretas with the Sud Apartments (grotty) probably be the best known. If you want to stay in the old town there are a number of apartments to let. In 2003 we stayed at Aparthotel Navila, (San Luis 2), which offers traditional if a bit back accommodation, however this is more than compensated by its great location, large sun deck and swimming pool plus it is literally yards away from Club Anforas etc.
Money.
As with most of europe, the currency in Spain is euros. The Euro has gained in strength again the pound, making the island more expensive for the british tourist. To get your cash there are many cash machines on the island enabling you to withdraw Euros from your credit or debit card.
The Gay Scene:
A large number of bars are situated along Cala de la Virgin. just up from the harbour front. We don't think you'll find many virgins though. Just walk along until you find the crowd. The bars seem to vary in popularity from year to year so just work you way along until you find one you like. Most have pretty bar staff ready to serve you drinks.
Later in the evening the crowd moves round the corner to an area called Dalt Vila and congregates outside Angelo's and Incognito which are larger bars. There is nothing more relaxing that standing outside in the evening drinks in the warm summer air. Its also worth popping round to La Muralla which is a very pleasant bar. Adjacent to La Muralla, it Bar Red (Sa Corrossa, 4 Dalt Vila, Old Town, Ibiza - new 2003), say hello to the boys from Brighton.
Around 1am the crowd normally divides. The gay crowd people will move onto Anfora (C/. San Carlos, 7 Dalt Villa, Ibiza), the little gay club built into the rock face above the town. (Expect to pay around 7 euros to enter the club although this includes a free drink. (This prices goes up to 12 Euros after 2pm - rip off) Some nights there will be a cabaret as well. Thursday is the popular 80's disco night. The upstairs bar play videos and there is a dark room.) Depending on the night other people will go to one of the bigger club nights such as Manmission held throughout the summer on monday nights at Priviledge. Claiming to be the biggest club in the world, hardly excuses the entrance cost upto £40 with very expensive drinks. The venue is impressive, although the crowd is always. Try and get one of the many discount flyers available.
If you're still going till 6am, the cake shop Croissant Show (Mercado Viejo / bottom of the ramp leading up into the old town) serves up delicious pastries and coffee to the post club crowd. The Soap Cafe just round the corner also serves up delicious pancakes and spirits (cute staff too.)
Cruising Areas The ramparts above the old town are notorious. Try not to fall over the edge, its a long way down.
Alternatively if you're staying in Figueretas the area behind the open air swmming pool has its moments . For your own safety go with a friend. Safety should come before any possible embarrassment.
Gay Beaches:
There are two gay beaches. The main one is at Es Cavallet on the southern tip of the island. Although you can get there by bus it is worth hiring a car for a week especially if you are in a group and can share the expense. (From £150 for a week's hire. Most of the major car hire companies operate in Ibiza including Hertz, Avis, Alamo etc. You simply collect your car from the airport when you arrive). Drive or get the bus to Las Salinas and then head through the woodland heading east. There are normally other gay men around so follow the crowd. The beach is clean and the sea safe to swim in. There is a good open air restaurant above the beach where you can eat or order drinks. Nude sunbathing is allowed.

The other, smaller beach is more central. Walk along the sea front from Figueretas towards Ibiza toward. Follow the path round as far as you can and then head up the road. The beach is accessible by walking down a narrow path. Try and wear sensible shoes for once.



The club scene:
Most people wil have heard of Priviledge and Space. These are still going strong. Privledge has different club night throughout the week with the hugely popular Manumission on Monday's. To avoid paying the extorniate extrance fee try and pick up discount flyers in the old town. Drinks inside the clubs are also very expensive. However the experience s well worth it. Privledge is a huge club inside a building the size of an aircraft hangar. Many London clubs including Trade normally promote a summer event of the island.

Space is the clubbers club and kicks off in the early morning after Manumission. There is an indoors as well as outdoors dance floor to take your pick from. The club stays open throughout the day and is particlarly busy at weekends. It's also worth checking out El Divino and Pacha.


Eating Out.
The old town itself has many good restaurants offering a variety of excellent cuisine. In the Plaza Dat Vila (up the drawbridge (turn right, then straight ahead) We can particually recommend El Olivio, La Torreta and La Oliva as well as The Studio (Calle de la Virgin)

Don't forget to pop into Gemini's restaurant along promenade front in Figueretas. If you've got a hangover then Monroes (opposite the Sud Apartments) do a decent british breakfast. Say hello to Mel and Phl your hosts for me. Monroes also do bingo nights and the odd occasional cabaret evening. Another restaurant recommended to us recently is call 'Soleado'. Situated once again on the beach front in Figueretas it is summed up by two recent visitors "as being practically in the sea, within staggering distance of the Sud Studios, and serves simply delicious food at excellent prices with the added bonus of a gorgeous french waiter!"

If you're visiting Ibiza this year let us know how you get on.