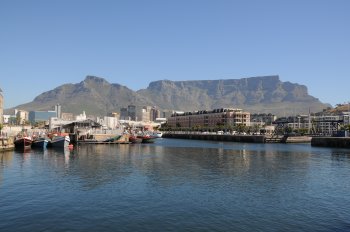 The many diversions of Cape Town include sport, the beaches, mountain, scenic day-trips, sunsets, wine and fine dining. Just about every gay taste is catered for in the Cape Peninsula. Expectations are high and by all accounts - and by the increasing number of gay and lesbian travellers - guest houses, B&Bs, clubs and pubs are of top international standard. Gay lifestyle demands a vibrant nightlife and Cape Town has it all from dancing, cruise bars, video shows, restaurants with cabaret and strip shows, coffee bars, shops and steam baths. If you want to cruise, but prefer fresh air and sunny skies, there are some beautiful beaches and outdoor cafes.
It is easy to see why Cape Town has become one of the top gay destinations in the world. The best way to find out what's on is to pick up the Cape Review from any newsagent, book store or corner shop. Also freely available are the Cape Gay Guide and the Pink Map: helpful street maps accompany lists of accommodation establishments, gay owned / orientated businesses, and a range of services from florists to raunchy M2M studios. Confirming that South Africa is truly a Rainbow Nation, a number of establishments proudly sport the distinctive, multicoloured gay flag. Throughout Cape Town you're sure to spot them fluttering in the breeze.
Getting there.
British Airways, Virgin and KLM all offer fairly regular flights to Cape Town. It is possible to fly direct but do expect a brief stop over in Amsterdam or Johannesburg. Flying out in January (peak season) meant most return flights were in excess of £600. We found our flights on Netflights which is a useful price comparison site. I only trust as everyone says it is cheap when you get there. Sod it, the weather is miserable in the UK, I'm going anyway.
Gay Scene - Bars, Clubs and Saunas
De Waterkrant Village is the official gay village with Cape Town, equivalent to Oxford Street in Syndey, Old Compton Street in London. The majority of bars, clubs, restaurants and saunas are all within easy walking distance. First of all enjoy the prices. Most drinks are literally around a £1 including cocktails. In the last couple of years due to redevelopment in the area Bronx Action bar has relocated to the old Club 55 site which as now closed.
At Bronx Action Bar (35 Somerset Road Tel: (021) 419 9216), 5 drinks cost 50 rand/£3.5. Packed music bar at weekends with a young local plus tourist crowd. Great atmosphere and cute shirtless bar boys. The party continues early into the morning. In fact most bars don't get busy until late but continue until 4/5am. Monday's is also Karaoke night with a slightly more mixed crowd. When this venue relocated they literally took the old bar and fittings with them along with the bell that gets rung everytime a punter leaves a heathy tip. Aparently the upstairs is also due to be redeveloped into a dancefoor.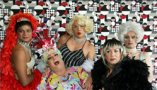 Virtually next door you'll find The Loft Lounge calling itself an up-market Groove Bar which opened in April 2010. The bar has a more relaxed atmosphere compared to the Bronx and is ideal as a pre dinner meeting place. The is a weekly drag show on every Sundays where you enjoy the delights of Maxime Magic, Victoria Caballiere and the other girls. Again drink prices are cheap and it was fairly full when we visited.
Café Manhattan (74 Upper Waterkant, Cape Town; T: 0027 21 421 6666) is an understandably popular, roomy restaurant with tables amidst mirrors and male nude art, sprawling out onto terraces. Terrace tables available. Food Nachos, steak, spare-tibs, grilled chicken. With some of the cutest, flirtiest waiters in Town, it also has a busy bar out front.
Gay Sauna: If you fancy some gratutious 'health and beauty' many boyz head round to The Hothouse (Tel +27 21 418 3888) european gay sauna complex with large steam room, two jacuzzi spas, relaxing lounge with two bars and obligatory rest rooms. It is open 12pm to 2am Mon-Thurs, 24hrs at weekends. HIV is a very real issue in Africa so play safe.
Notable Gay Events
Mother City Queer Project held every December Events run across the city climaxing on the last Sunday with parades in central Cape Town and a huge party.
2010 Cape Town Mardi Gras - 30th January to the 2nd February
Pink Loerie Carnival - 1st - 4th May 2010
Crime / Safety.
Do be careful when leaving any of the gay venues late at night. Try not to get too 'pissed' and our advice is to head straight to the taxi rank at the petrol station to taxi you back to your hotel. Don't walk around late at night especially alone and try not to look like lost, rich tourist trash or 'shit faced' even if you are. We have heard of too many people get mugged in the area, so only carry enough cash for the evening. Leave your mobile phone, camera, ipod. If you are driving it is also customary to pay the local lad 2 rand to 'look after your car'.
Bears / leather queens are catered for by Bar Code and Rosies. Rosies also has a couple of pool tables. Rosies is situated across the road from Manhattans, Bar Code is tucked behind 55. Manhattans is a mixture of restaurant and bar. Popular early evening and wise to reserve a table at weekends.
Tourist Things: We do you start? You are literally spoilt for choice when it comes to stunning scenery and landmarks. Here are some of the highlights. I'd also recommend getting The Time Out Guide to Cape Town or similar travel publication enabling you to plan your holiday in advance.
Table Mountain offers stunning views over Cape Town and surrounding areas. Access is via rotating cable car (130 rand/£9). Drive half way up the mountain and then get the cable car to the top. Fantastic views of Camp Town and Camps Bay and seeing the clouds rolling off the top of the mountain is breathaking. NB: The cable car won't operate if it is too windy and prey they don't have a power cut half way up and you're left dangling.
Cape Point. Hire a care and drive down the coast to Cape Point. On the way enjoy the stunning scenery around Houts Bay, stop off at the historical naval port of Simon's Town, see the penguins at Boulder's Bay and then the breathtaking views from the lighthouse at Cape Point itself. Hopefully the tram will be working to take you to the top. Don't forget your camera for this day.
Kirstenbosch National Botanical Gardens (Rhodes Drive, Newlands Private Bag X7, Claremont. Tel: +27 21 799 8783)
Founded in 1913, Kirstenbosch National Botanical Garden is world-renowned for the beauty and diversity of the Cape flora it displays and for the magnificence of its setting against the eastern slopes of Table Mountain. Kirstenbosch grows only indigenous South African plants. The estate covers 528 hectares and supports a diverse fynbos flora and natural forest. The cultivated garden (36 hectares) displays collections of South African plants, particularly those from the winter rainfall region of the country.
The Vineyards. South Africa is famous for it's wines, notably Sauvignon Blancs, Chenin Blancs and Chardonnay. Drive inland from Cape Town towards Stellenbosch and you'll find yourself surrounded by vineyards. Pick up a local guide to work your way around. Most of the vineyards obviously offer wine tasting and many have excellent restaurants. I'd like to recommend Tokara and Lanzerac as two vineyards that stood out. Next time you are in your local Majestic or even Tesco's it would be nice to put a place to the wine on offer and say I've been there.
Shopping The Victoria & Albert Complex is a modern shopping centre aimed squarely at the tourist with tourist prices. The complex has some good restaurants situated around an attractive marina with great views of Table Mountain.
Two Oceans Aquarium with its huge shark tank and large number of fish on display. The Aquarium also promotes a strong eco message. You can also book a sailing or fishing trip from here and well as visiting Robben Island, home of Nelson Mandela for many years.
Internet: Many of the hotels now offer wireless internet access. There are numerous internet cafes along Main Road in Sea Point. We'd recommend the Catwalk Internet Cafe (catwalk.tv) which has numerous terminals, fast connections and charges just 10 Rand/70p per hour.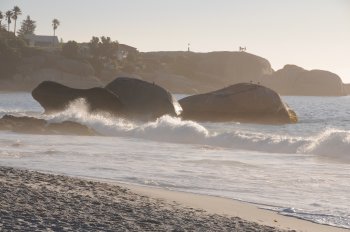 3rd Beach Clifton, between 2nd and 4th beaches. Popular with gay men. It is a beautifully clean white sandy beach with clear blue surf and large waves pound the shore. The sea around Cape Town is cold enough to freeze the nuts off a brass monkey. Non existant ozone layer means it is very easy to burn on any of the beaches so cover up with a hi factor sun screen.
Nude sunbathing is allowed at Sandy Bay. (take the Llandudno turn-off from the Camps Bay Road, follow the signs to Sandy Bay followed by a half-hour walk to the nudist beach). The gay part of the beach is unsurprisingly the fathest end. Cruising and other activities take place in the bushes here. Our advice would be to stick to Clifton 3.
Eating out. You really are spoilt for great restaurants in Cape Town. Sea food is obviously high of the menu, but we also have some great steaks and your also will see ostrich or crocodile on some menus. Most restaurants offer fantastic quality and variety at exceptional prices compared to back home. Many of the wineyards also have their own restaurants servery delicious food (see Tokara). The Nose restaurant www.thenose.co.za (Cape Quarter, Dixon Road, Green 021 425 2200 offers a superb selection of wines and simple yet apertising menu. Thai restaurant Tom Yum (Regent Road, Sea Point), was enjoyable, with cute waiters. Wang Thai a second thai restaurant is also very good. Caprice (seafront overlooking Camps Bay) serves excellent lunchtime cocktails and bar snacks. Tides Restaurant, Camps Bay (tides.co.za) offers upmarketing eating surroundings, good food and dishy waitors. Great sunset views over the bay.
See also Wakame - Trendy seafront bar with excellent food and smart bar / roof terrace to watch the sun go down.
Money: Useful information: Currency: Rand. 100 cents to the rand. Exchange rate:14 rand/£1. Jan 2010. See XE.com for the latest tourist rates
Parking. Although most streets don't have parking meters, there will be someone there to watch your car. It is customery to tip them 2 rand when you collect your car.
Learn to speak gay South African. The brits may have Palare, whereas South African queens have their own selection of widely used phrases. Not for the faint of heart

South African
English
South African
English
Ada
Arse
Hilda
Hideous
Bella
Slapped
Lilly Law
Police
Beula
Beautiful
Meula
Money
Bolla
Hair/ Hairdo
Moffie
Gay Man
Cilla
Cigarette
moffies
gay men
Clora
Coloured Queen
nora
thick
Dol
My Dear / Term of Affection
priscilla
police
Dora
A Drink
rita
rent/ rent boy
Dorad
Pissed
sally
to suck
Feula
Furious
sheila
to sh*t
Forty
Lots of
stella
to steal
Griselda
Mega Hideous
vera
to vomit
Gay Press
Detail - Cape Town's monthly gay lifestyle newspaper. (www.detail.co.za) Exit (www.exit.co.za) South Africa's monthly gay paper.
Every shop under the Southern sun can be found at the Victoria & Alfred Waterfront complex, a large, attractive waterfront shopping mall full of cafes, eateries and boutiques on the regenerated sea front by the old harbour: a bit of a theme park in truth. Enjoy a meal or drink at one of the many bars or restaurants offering Great views over the harbour towards Table Mountain and trips to Robin Island are available from the harbour.